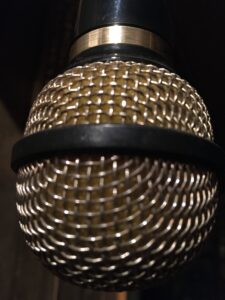 MICROPHONES OF 1000HZ - 2022 - Way too much information about the hundred or so microphones here at the studio - my personal take on each member of the arsenal:
AEA KU5A - active ribbon mic  - ( 2018 ) In the recording world of the 2020's, this has been my favorite microphone! - this was the mic used to record Maceo sax on the "Cooking"  LP - It has also been the mic for live trombone on gigs in 2019. - Bought from AEA in California, direct after a long demo period.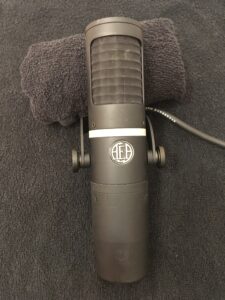 AEA N8 - active ribbon pair (2) - ( mid 2000's ) - Used every night on Maceo touring drum kit for years - Bought from AEA direct ( I think they knew, once they lent them to me that I would have to keep them! ) - one was reribboned in 2020, after enduring years of brutal international touring!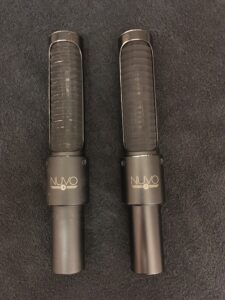 AEA R92 - ribbon mic - ( Early 2000's ) bought on ebay in early 2000's - used on guitar amps for recordings many times. Has a unique warm detailed quality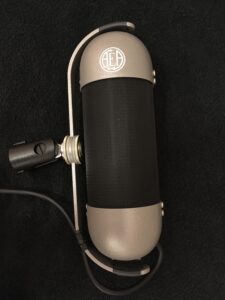 AKG C451e - vintage condenser - ( 1970's ) - came from Colorado in early 2000's - probably gets used on most band recordings here - It is the most classic high hat mic, period!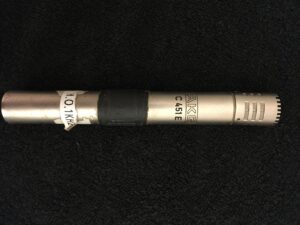 AKG D-12 E - vintage dynamic -  ( 1950's/60's ) NOT to be confused with the ubiquitous D-112, which I hate deeply…  Bought from a pawn shop in Sioux Falls SD in 2003 - used on kick drum and on horns for recordings.  Has that familiar 1970's 'boxy, tight' kick drum sound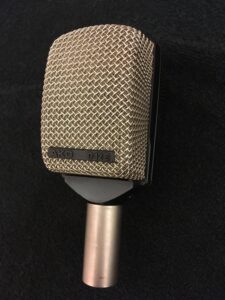 AKG D15 -( late 1950's ) This is a really old broadcast dynamic mic, with a curvy bakelite body, and an impossible to find "big tuchel" connector - another ebay impulse score…  - I soldered up a makeshift wire for it to get to XLR, and it sounds very bright & present!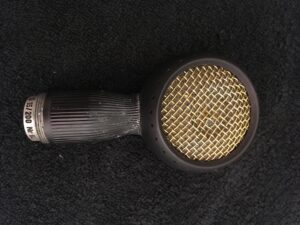 AKG C414 B-ULS - ( 1990's ) - condenser matched pair (2) - Bought through Klondike for Buffalo studio late 1990's - used on so many different recordings - My favorite mic of the 414 series. A high fidelity workhorse.  ( I have a weird loathing of the TL-II versions and the new versions of these mics… )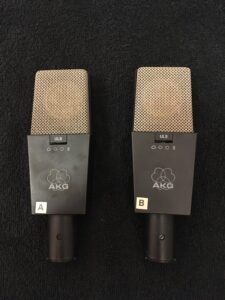 AKG C414 EB - ( mid 1970's ) condenser - Bought on ebay in early 2000's - this is NOT the fabled, and now SUPER-expensive brass capsule C414, but a later serial numbered nylon capsule vintage c414… - The best sounding AKG mic I know. A high-fidelity workhorse.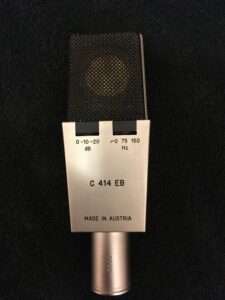 AKG C214 - ( mid 2000's )  condenser matched pair (2) - given to me by an AKG Europe rep with hopes that I would use them as drum overheads for Maceo shows. This was part of AKG's attempt to get Maceo to use their mics in his high profile work with Prince. It never paid off, but left me with some great mics…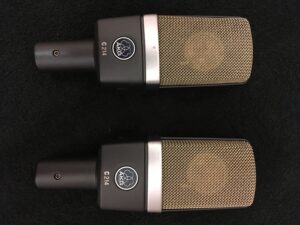 AKG C4500 - ( mid 2000's )  condenser - Another mic from AKG Europe - Not sure what they intended me to use it for on tour, but it is a pretty decent sounding condenser - Every now & then I use it to record bass amps. Quintron used it for his NOMA recordings…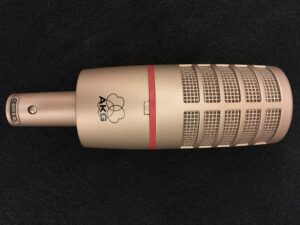 AKG C519 - ( mid 2000's ) condenser - Yet another mic from AKG Europe - this was intended as a clip-on sax mic for Maceo - However, there was no way he was going to use a clip on mic for his gigs, but it was hoped ( by AKG ) that he would use it when he played with Prince…  hmmm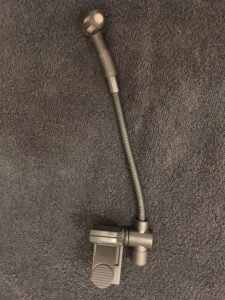 AKG D-99 - vintage dynamic Harry Kunstkopf head - stereo - ( early 1970's )  Bought alarmingly cheap on ebay in the post Katrina, green studio era. - used on many recordings as the wildcard weird room mic - used as a stereo room mic on a few live recordings at Saturn bar and Siberia.  looks super impressive, although a bit intimidating - Understand that as Austrian as it may be, this is NOT a legendary Neumann Ku 100, and might have been a weird misstep in AKG's history.  The "Harry", as they called it, is an amazing mic, nonetheless!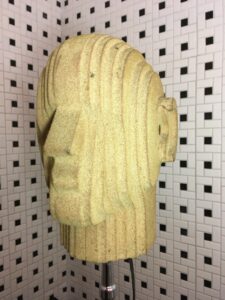 AKG D900 - vintage dynamic shotgun hypercardioid - ( 1980's ) Bought on ebay in the early years of the green studio - inspired by using a shotgun mic for snare drum recording many years ago at the Congress House in Austin. Very rarely used here in New Orleans.
AKG DX11 - vintage dynamic mic with built in Fender spring reverb tank - ( mid 1960's ) - A legendary, and much sought after weirdo mic, that I originally found very cheap in the 1990's at a flea market in Austin TX.  That mic mysteriously quit working and I could never find anyone willing to try to fix it.  I trolled ebay for years looking for another one and found this one (of course not nearly as cheap! )  in the post katrina green studio era. - The capsule is the same as AKG D 14. This model was also sold as Phillips Dx11 and Grundig GHM328 ( yes, it really does have an actual little spring reverb hiding in its big plastic handle, and a compartment for a 9volt battery!! )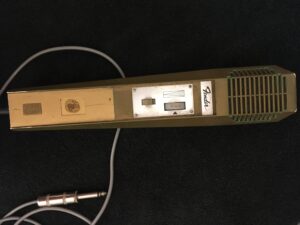 AUDIX D1 - dynamic - A recent ebay find during a rabbithole history session where I was determined to find out if the original batch of Audix mics sound 'better' than the newer 'mass produced' models. This is a low serial number D1, with the old style 'scripty' "D" logo, and the early die cast body. Is it magic??, does it sound better?!? Let the testing begin...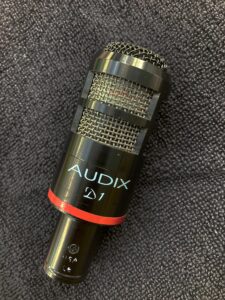 AUDIX D1 - dynamic - ( 1990's ) bought from Audix direct during the Buffalo studio era - a good dynamic mic that doesn't get used much - One of the second generation "made in USA" audix mics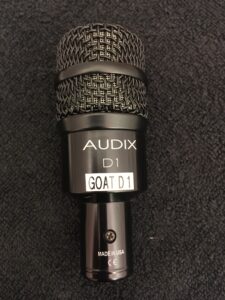 AUDIX D2 - dynamic (3) - (1990's ) - bought from Audix direct during the Buffalo studio era - a good dynamic mic used on rack toms a lot - If you squint closely you see that 2 of them are the older "made in USA" version, with the slightly less bold script "D2" logo ( the good ones!! )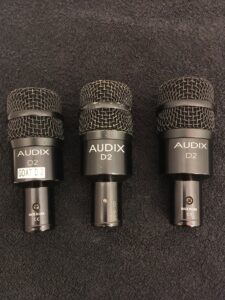 AUDIX D4 dynamic (3) - ( 1990's ) bought from Audix direct - These are my favorite tom mics, a couple of them are the old "USA" versions, and sound great on floor toms, and have been used as horn mics for a lot of live recordings. ( for awhile I had a rare and coveted modded Audix prototype mic, that was a D6 capsule in a D4 body. I toured with it for years as a kick drum mic for Maceo drummers - It sounded great, and was a total secret weapon!! Alas, it got lost in a major airline luggage loss in the early 2010's… )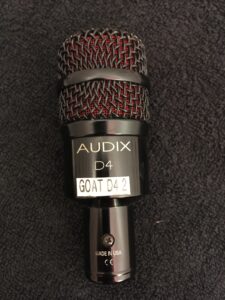 AUDIX i5 - dynamic (2) - ( mid 2000's ) one of these mics came from Audix as a raw aluminum preproduction prototype for me to demo, and the other was an early finished version that was given to me, probably by Phil, awhile later.   - These have been used mostly as snare mics and on guitar amps, on many recordings.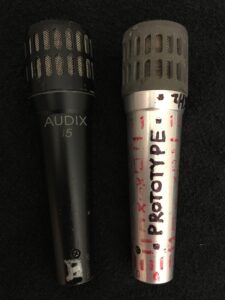 AUDIX D6 - dynamic (2) - ( mid 2000's ) one of these mics is a raw aluminum demo version, and the other is a production black colored mic - They both came direct through Audix, one in Buffalo, the other in New Orleans. - they have both been used as kick drum mics for many live shows and recordings.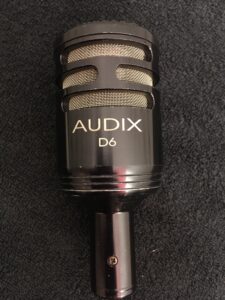 AUDIX Fireball - dynamic - ( mid 2000's ) A weird gold colored 'harmonica' mic that I got through Phil at Audix - Never quite had a use for it, but I do remember gaff-taping it into the end of the famous "space phone" kids spring reverb toy, for some kind of crazy vocal effect at some distant moment…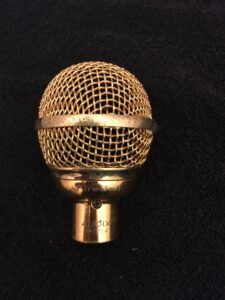 AUDIX SCX-ONE - condenser pair - ( 1990's )  A great sounding small condenser mic that was bought from Audix during the buffalo studio era.  I originally had a pair of them, but lent one to Trina Shoemaker during the Truckfarm era in New Orleans, and never remembered to get it back!  This remaining one has been used as a high-hat mic on many recordings! - OK, OK, sorry if this is confusing, but I recently found another vintage SCX-ONE to complete the "pair" again...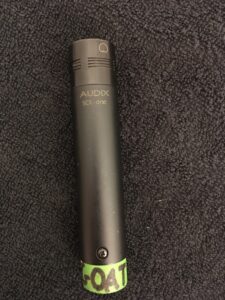 AUDIX CX-111 condenser matched pair (2) - ( 1990's ) - These mics were bought from Audix during the Buffalo studio era.  They got used a lot on recordings at that time, but rarely get pulled out these days.  I feel like they are SO even and "neutral" sounding that they get passed over in favor of something brighter, or warmer, or darker, or whatever…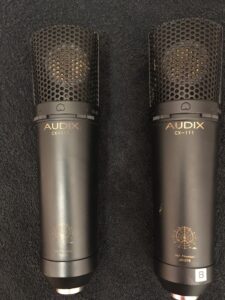 AUDIX SCX25 - condenser matched pair (2) - ( early 2000's ) These mics came from Audix when they first came out, and I knew I had to keep them.  They are the most detailed condensers I know.  They have been used as a stereo pair as drum overheads on many 'jazz' recordings, and have been used as piano mics almost every time I record a piano. Easily the greatest microphone that Audix ever produced. My go-to stereo pair for almost everything… ( and yes, they are early production SCX25, not the current 25a version...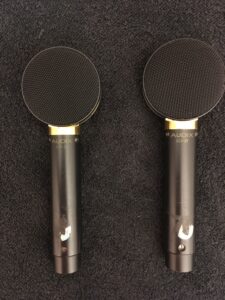 AUDIX ADX-20 - miniature condenser - ( early 2000's ) A good little condenser mic that I retrofitted inside of an old metal 'Sears Silvertone' 1950's type harmonica mic casing.  A very hi-fi weirdo mic choice.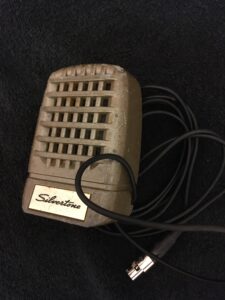 AUDIX VX-5 - condenser 'vocal mic' - ( mid 2000's ) Given to me by Audix for use as a Maceo vocal mic.  He refuses to budge from his time-honored use of a Shure sm58, so now it gets used as a great studio recording option for singers that are used to working with a handheld mic, but need something more detailed sounding in the studio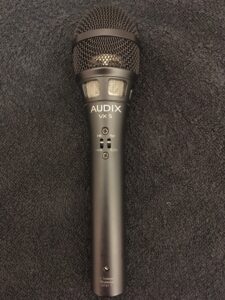 AUDIX VX-10 - condenser 'vocal mic' - ( mid 2000's ) A similar story to the VX-5, but given to me a decade earlier as an option for touring vocals - I can't remember what we ended up using live, but the VX-10 stuck with me -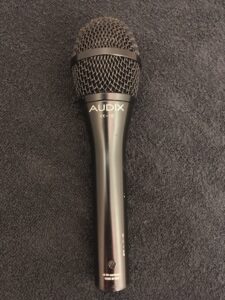 AUDIX OM 5 - dynamic - ( 1990's )-  Another relic from the time of live vocal experiment - got used as a backup vocal mic on Maceo tours for many years.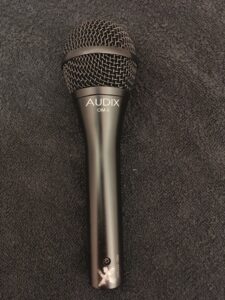 AUDIX OM 7 - dynamic - ( 1990's ) A much tighter hypercardioid version of the OM 5, that I have used on live drum vocals many times over the years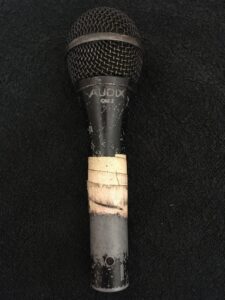 B.L.U.E. - THE BALL -( early 2000's ) active powered dynamic - Bought from a Guitar Center sale in Buffalo - A very forward sounding 'active' dynamic mic that gets used in the studio on loud, weird stuff where it feels like only a cheap and resilient microphone in the form of a blue plastic ball is up to the job…
B.L.U.E. - THE 8 BALL - condenser -( mid 2000's ) This one may have come from a later Guitar Center sale in New Orleans - seemed too cheap to pass up, and maybe the thought was that at some juncture, having a cheap and resilient condenser mic in the studio, would be a good thing.   This one just doesn't seem to get used for much, but it looks really stylin' on a stand, hanging in its big round suspension mount…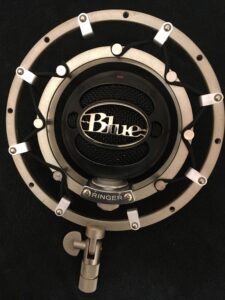 B.L.U.E. - DRAGONFLY - ( 1990's )  condenser - Bought from the Guitar Center in Buffalo, and used a lot where a very forward and detailed ( maybe 'hyped' is a better description ) sound is needed. It has saved many dull vocals, but needs to be chosen wisely as it can really hype the top end too much.  Used as a distance room mic in a few recordings, including the Helen Gillet / James Singleton church recording, where it perched high in the choir loft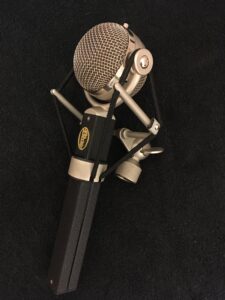 B.L.U.E. - bluebird - condenser -( early 2000's ) Bought on ebay in the early greeen studio era - I have not yet figured out a good place for it, and it has been used very little!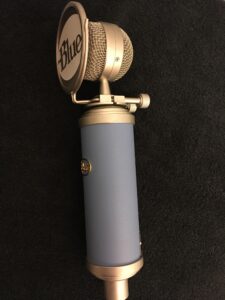 BEYERDYNAMIC M88 - dynamic - ( 1990's ) Bought through Klondike for the Buffalo studio in the late 1990's - has been used on many recordings as a kick drum mic.  The diaphram broke in early 2000's and Beyer replaced it with my promise to buy one of their windscreens for the mic and to keep it further away from the front of kick drums.  I did buy the windscreen, but I kept using it on kick drums, and now the diaphram has quit working again, and I need to get it fixed!
BEYERDYNAMIC M300 - ( 1980's ) dynamic - Bought very cheap from Black Market Music in LA - kind of like a dull sounding sm58… I lend it to people when they just need to borrow a vocal mic for whatever reason.  a good spare mic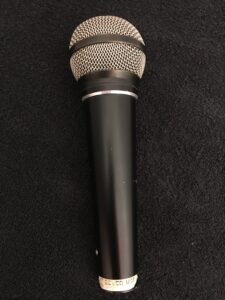 BEYERDYNAMIC MCE 10 - lavalier condenser - ( 2000's ) A European acquisition in the early 2010's - gets used in the studio a lot as an under snare drum mic, or sometimes it sounds a little cleaner than my Sennheiser lavalier mic on upright bass…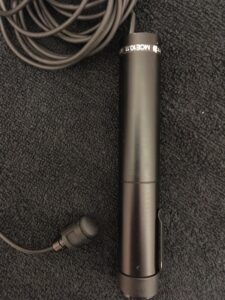 BEYERDYNAMIC M55 - vintage dynamic - ( late 1960's ) A german junkstore find - has a 'DIN' plug on the end, and I have never gotten it changed, or found an adaptor to XLR, so it just sits in its pretty display box…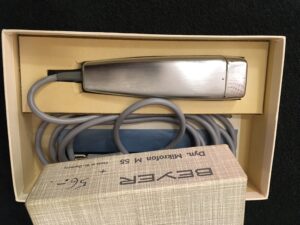 BEYERDYNAMIC - M64N - small dynamic - ( mid 1960's )  I got this one at Black Market Music in LA, back in the late 1990's ( they always had a grab bag basket of scrappy old mics by the front counter ) - took awhile to find a 'small tuchel' to XLR connector for it.  - Kinda sounds like sm57, but way smaller & cuter…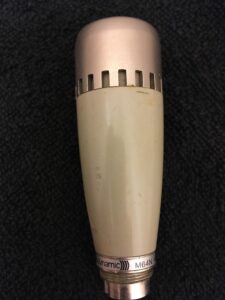 COLES 4038 - ribbon pair (2) - ( 1990's ) A pair of mics that I LOVE a little more than I should probably admit... These were bought in the Buffalo studio era, on a Kingsway inspirational need. They have been used on many recordings a drum overheads, and also in very controlled situations, as horn recording mics. They are very heavy and very fragile, and I have learned that trying to bring them onto an airplane through security xray machines, is a sure way to spend a lot of extra time with new friends at TSA.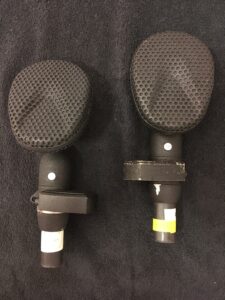 COLES 4104 - vintage ribbon - ( 1960's )  Bought after years of searching, on ebay - I think I got lucky that the ribbon was a good shape. Has been used as a horn mic a few times, a vocal mic a few times, and was used on guitar amps, before I got scared of killing it, and bought my AEA R92. I Recently found another one of these 4104's, so now I have a "pair" of them!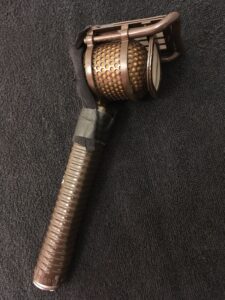 COPPERPHONE - handmade dynamic "lo-fi" - ( early 2000's ) I read a tape-op review of this mic, and bought one direct from the maker right away.  It is an early version, before the company became 'placid audio' - Got used for weird distant backup vocals a few times, and has been used a lot to mic bass cabinets, because it just brings out character without adding any extra muddy low end. I try to not let bass players ever hear the mic track soloed, because it sounds terrible, but blends in with the DI signal in a magic way. I have also been using it behind the soundboard of the upright piano, where it brings out a presence like nothing I have ever heard!!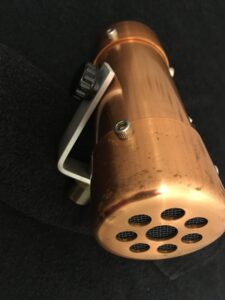 ELECTROVOICE Cardinal - condenser -  ( mid 2010's ) Don't ask me how I got this mic…   It is a kind of fake 'vintage' mic, that is a good sounding condenser, that I am not afraid of putting close to drums.  Gets used as the compressed mid-kit wildcard mic a lot.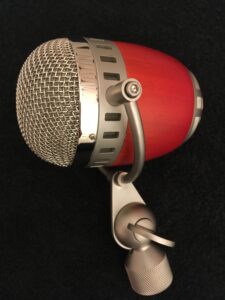 ELECTROVOICE DS35 - dynamic - ( 1990's ) A mid 1990's touring mic, bought for use as a drum vocal, because it is a very focussed hypercardioid pattern. - Rarely gets used in the studio…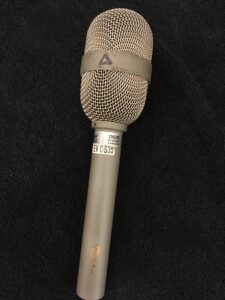 ELECTROVOICE - RE10 - (1970's )  Got this crusty old dynamic from the infamous Eli sometime in the mid 2010's - It came from somewhere that had probably burned down, since it, and the pair of speakers I bought at the same time, smelled strongly of wood smoke!  - It does work, but never really gets used…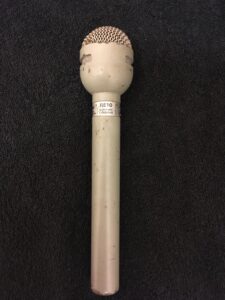 GROOVE TUBES MD1a - original issue Tube condenser pair (2) - ( 1990's ) - These mics were bought direct from Groove tubes in the late 1990's, after using one in a studio somewhere in the Northeast as a vocal mic, and being amazed by it!  This pair is an early production pair, and uses computer printer type multipin cables between the mics and the power supply.  They have been used as a drum overhead pair, and as piano mics a lot.  These are strangely great sounding mics, and have a midrange presence that is kind of magical!  They feel irreplacable to me…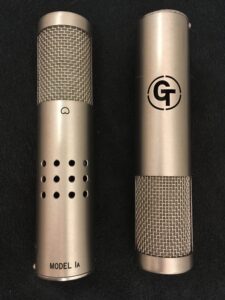 GRUNDIG - GDM15 - dynamic - ( 1960's ) Bought in a junk store in Germany.  It has a lovely cloth cable and an XLR connector. It also has a super groovy metal 'cookie tin' type case, that it rarely comes out of. Have I ever actually used this mic?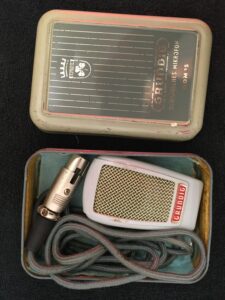 OKTAVA MC 012 - condenser pair (2) - ( 1990's ) Bought from Guitar Center in Buffalo, late 1990's, when the chain was selling off all their overstock of these Russian mics. I think they were $99 each ( in a case, with 20 db screw-in pads, and separate capsules for omni, cardioid, & hypercardioid ) At the time, they were the best sounding small diaphram condensers you could buy for that kind of money!!  I feel like Oktava moved the production of their mics after this era, and the later models were badged as "MK012", as opposed to these MC012 mics.  This pair have been used as audience or room mics on many 'location' recordings ( where I might have been scared to leave other expensive condenser mics sitting in the middle of a club audience! )  They were the room mics for a year of Helen Gillet live stream / recordings during the 2020 pandemic!
OKTAVA Mk012+ - custom Joly modified condenser pair (2) - ( early 2000's ) This pair came from Guitar Center Austin TX, when I was on tour with Supagroup, and realized I had forgotten to pack my pair of OKTAVA MC012 mics to use as room mics for recording!!  They were still available very cheap, used, in the early 2000's. This pair is the later MK012 version, and just didn't sound as good as my older Oktavas!  I sent them to Michael Joly at 'Oktavamod', and he replaced some crucial components, and they now sound amazingly good!  - Oktavamod has gone away now, and I am starting to see his modded Octavas hitting the used market at higher & higher prices!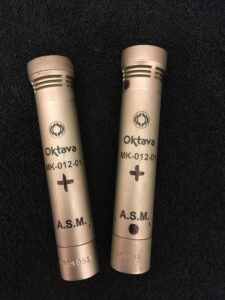 OKTAVA ML52 - custom Joly modified ribbon - (early 2000's )  In another sell-off wave, Guitar Center got rid of more Oktava products insanely cheap. I bought a pair of ML52 ribbon mics in the early 2000's in New Orleans.  They sounded pretty dull and lifeless.  I lent one of them to Bruce Barrielle just before hurricane Katrina hit, and in the years that followed I just forgot about both these weird Russian mics.  After I got my modded MK12 pair back from Michael Joly, I instantly decided I needed to send him my 1 remaining ML52 ribbon.  He modded the electonics, replaced the ribbon, and it sounds great.  It has been used on many recordings, behind the drum kit, right behind the drummer's head, heavily compressed. Another magic mic.
NEUMANN TLM 103 - condenser - ( 1990's ) Bought from Guitar Center Buffalo in the late 1990's, pretty soon after Neumann released their 'budget' large diaphram condenser.  This is a really great sounding, classic mic!  It is basically a U47 with no transformer, in a fixed cardioid pattern, with no level pad or high pass filter.  It has been used as a vocal mic, as well as on many instruments on many recordings.  It is 'the' Neumann vocal mic in my world…
NEUMANN KM-84 - vintage condenser pair (2) - ( 1970's ) This pair of mics came from the old Music Gallery in Toronto.  They sat unused in the mic closet for many years, because the console that they used there had really noisy mic preamps, and supposedly had to use so much gain to power these KM-84's, that they just sounded noisy, and dirty, and were deemed 'unusable'.  I took them, and found that they were actually really noisy, bad sounding mics!  I sent them to Neumann USA ( at somebody's suggestion, I can't remember who… ) and they recapped the electronics, and sent them back to me.  They are now just GREAT sounding mics, with a midrange presence like nothing else.  I watch the resale value of these mics climb higher & higher every year ( no, they are not AT ALL the same as the later KM-184 that Neumann still make, and which I really don't like the crunchy sound of ) and I really believe that they are destined to become the most valuable mics that I own!  - Acoustic string instruments ( guitars, violins ) almost always get mic'd with this pair…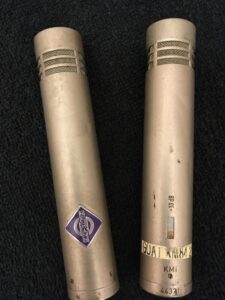 MICHAEL JOLY v250 - custom made condenser - ( mid 2000's ) With his company "Oktavamod", Michael Joly started off hotrodding people's Russian condenser mics, and eventually got into a hustle of buying up lots of new, cheap Chinese made mics, changing out some of the bad sounding electronics, and then selling these much better sounding mics at a profit. He eventually got so deep into the process, that he started 'making' his own mics from the skeletons of cheap donor mics. The v250 was one of his 'creations'. Because I was so impressed with the work he had done on my other mics, I took a gamble and bought, unheard, one of his Joly namesake mics.  It is, of course, an amazing, very clean, forward but not hyped sounding mic. Gets used for vocals a lot.  For some mysterious reason, it doesn't work at all sometimes, as though it is not getting phantom power. I put it away, and the next time I pull it out, it works fine…   I feel like if I trusted it to always work, it would be my go-to vocal mic.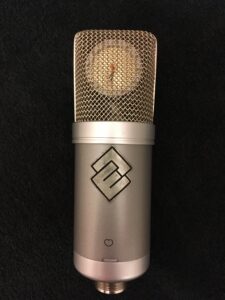 SCOPELABS PERISCOPE - ( 2021 ) A small workshop in Finland handmakes these beautiful copper bodied condenser mics with built-in analog compressors - a wildcard choice on any session. This mic is starting to just live behind the studio drum kit, where the compressed roomsound often sounds even wilder than my prized Shure Level-loc!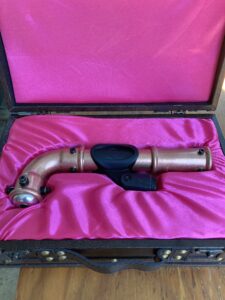 SENNHEISER K3-U - ( 1970's ) condenser with lavalier & ME-20 capsules - This mic might have belonged to Andy Stochansky's dad, who had worked at the CBC in Canada. Can't quite remember how I ended up with it…  I thought for a long time that it only ran on these hard to find little batteries, but it turns out you can just leave the battery out, and use phantom power! This mic only had a crazy "lavalier" capsule - which looks like any small diaphram condenser screw-on capsule, but with a 6 foot long wire coming out of the end of it, terminating with a tiny little capsule, that is meant to be pinned onto a lapel.   This mic gets used a lot, for pushing into the f-holes of upright basses, or into the soundholes of acoustic guitars, as a second 'body' mic for recording.  For some reason, it just works well on upright bass…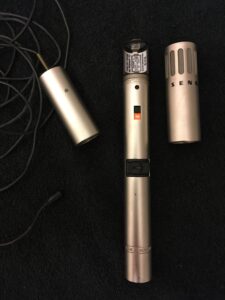 SENNHEISER K3-U - condenser with ME-40 & ME-20 capsules - ( 1970's ) I recently bought this regular K3-U with some extra capsules, cheap on ebay, so that I could have a pair of K3-U's for stereo work, I guess…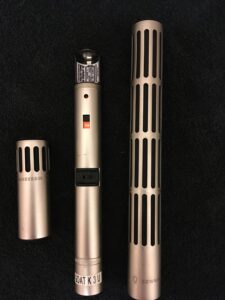 SENNHEISER MD-400 - "dynamic amateur microphone" - ( 1970's ) Another German junk store find, late 2010's - this one is still in its original cardboard display packaging, and I don't have the nerve to take it out…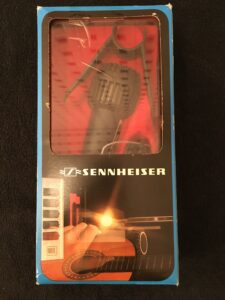 SENNHEISER - MD 408 N - ( 1960's ) I feel like somebody gave me this microphone to try out & see if it worked, at some point in the early 2010's in New Orleans.  It does work. It is rumored to have the "same" capsule as the legendary 409, but that seems unlikely. it does sound GREAT on guitar amps and gets used on sessions when a Shure SM57 isn't quite the right flavor.  It is set up as a podium mic, with a gooseneck and a switch…  I should let whoever it was know that I still have it, and give it back to them…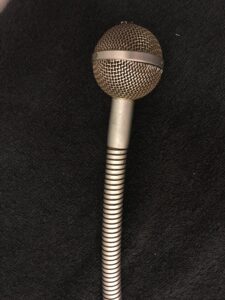 SHURE BETA52 - dynamic - ( 2000's )  This mic, along with a Shure KSM32, was sitting in a cardboard shipping box that had been left by some random band / production company in the bay of a tourbus that I was packing with cases at the beginning of an American tour many years ago. The driver didn't know or care who had rented the bus before us, and the bus company said nobody had asked about this box.  I called Shure, and they seemed annoyed and said that they had no idea what I was talking about, and that they were not 'missing' any mics.  So, they just became my mics!!  The BETA52 gets used every now & then as a kick drum mic in the studio, and more often taken to live location recordings with rock bands.  I don't think I ever would have bought a BETA52, but they do kind of work well in a kick drum…
SHURE SM57 - dynamic (5) - A lifetime of touring has left me with a few more sm57's than I can really account for.  I know that 2 of them were bought in Buffalo when the studio was getting set up there. The other 3 are just castaways, like dozens of 1/4" cables, a lot of guitar straps, a couple of tuners, and a few music stands.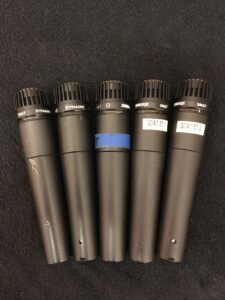 SHURE SM57+ - dynamic mic with custom ouput transformer (2) - Many years ago, I was helping move a bunch of Neville brothers gear out of a storage facility in New Orleans. Gear was getting brought back to its individual owners, or sold.  I was moving a broken leslie cabinet into a case, and saw an old pair of SM57's squashed into the bottom of the roadcase foam.  I asked my boss where I should put them, and he was just annoyed & said he didn't know whose they were, and suggested they should just go away…  I got inspired to send them off to Mercenary Audio in Boston, who replaced the output transformers, and turned them into the 2 best sounding sm57's!  They live on snares and guitar amps on so many recordings!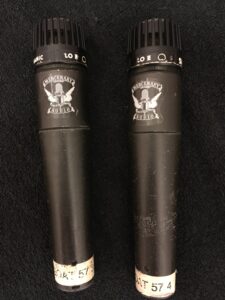 SHURE BETA 57 - dynamic - ( 1990's ) I feel like this mic came from the Buffalo studio, but I can't quite remember why we got it.  I have never liked the BETA 57…   dunno.  people like 'em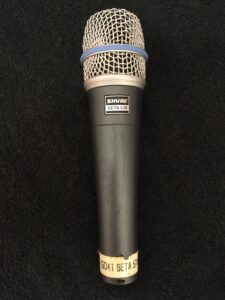 SHURE SM 58 - dynamic (4) - Again, with touring, come random, beat-to-death old '58s - they get used more often in recording situations than I can explain.  I did buy a brand new 50th anniversary edition of the mic, for some kind of nostalgic reason.  It is all shiny & silver & still smells new…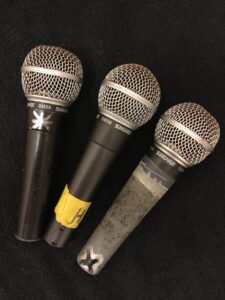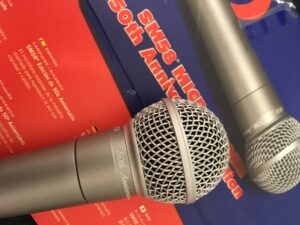 SHURE SM58+ - dynamic mic with custom Crimson audio output transformer - This mic I had modified, and it has spent more than a decade touring the globe with Maceo Parker.  He insists on singing into a 58, but seems cool with the transformer swap, which just makes it sound like the wool sock has been pulled off the grill.  This is a great vocal mic!!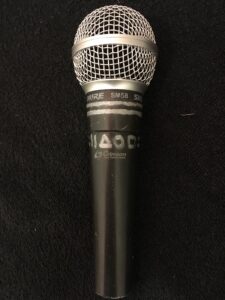 SHURE UNIDYNE III - dynamic (2) - ( 1970's )  A pair of "pre" sm57 mics with 1/4" jacks hard wired at the output.  - I found them really cheap on ebay, and I just couldn't pass them up…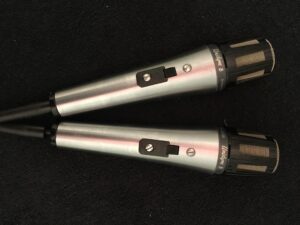 SHURE KSM32 - condenser matched pair (2) - ( mid 2000's ) - Tape Op magazine had an annual conference for a few years, and the last one was in Tucson AZ.  At the end of some long panel discussion, or lecture, in a big theater space, The Shure people had a surprise giveaway of a new KSM32 mic.  The first person to correctly answer the question " What does Steve Albini think that the only good use for a Shure SM57 is? " - I KNEW this cranky famous quote, and quickly yelled out : " HAMMERING NAILS INTO A 2 X 4 !!"  and they awarded me the mic!   When I talked to the Shure rep, who needed to know my mailing address to send it to me, I told him that I really wished they had been giving away a pair of KSM32's, because I had used a pair somewhere on a recording, and I thought they sounded amazing.   So, to my surprise, a few weeks later, a matched pair of these mics showed up in the mail!!   These mics get used as horn mics, vocal mics, room mics.  They are very dependably good sounding.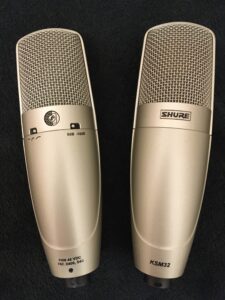 SHURE KSM32 - condenser single - ( mid 2000's ) This black version of the mic was the other mic in the famous tourbus bay box debacle. ( see BETA52 above… )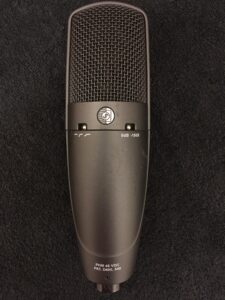 TELEFUNKEN - TD 25 ts - Dynamisches Mikrofon - ( 1960's ) Another score from the junkstores of Europe.  This one in its original blue cardboard box. Telefunken made some VERY valuable & highly regarded microphones a long time ago, but they were also serving the home recordist market, back when families might have a reel to reel tape machine in the living room.  This mic is from that era.  Also NOT to be confused with a company in Connecticut who cleverly scooped up the license of the defunct Telefunken name, and now make a bunch of new ( and maybe ok? ) microphones playing on that history…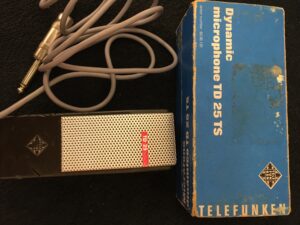 RCA - vintage dynamic mic w/ volume control - ( 1950's )  Bought from a now closed down guitar shop in Austin in the late 90's - It is a great mic to plug into a guitar amp, because it has a 1/4" jack and a volume knob.  For some unknown reason is always smells disturbingly weird.  It is known as "L'il skinky"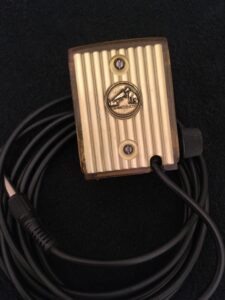 AMPEX 702 - unbalanced dynamic pair (2) - ( 1960's ) These 2 mics are from the reel to reel tape machine that my family had in the living room ( to send & listen to tape letters with family overseas! ) - I have had these mics since I was a kid!!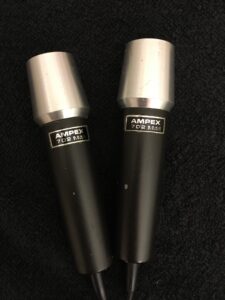 AQUASONICS - underwater mic! - ( 1980's )  This came from a great shop on Queen st. in Toronto called "Active Surplus"  - there was a big box of these things.  They take 2 AA batteries, and were meant to feed a signal on an 1/8" mono jack, to some kind of fish finder computer thing that fishermen use (!!??)  It sounds terrible, and alows you to do things like put it in the bottom of a big plastic construction bucket full of water & golf balls, and then swish it around while throwing metal cutlery into the bucket…  You know, that kind of mic…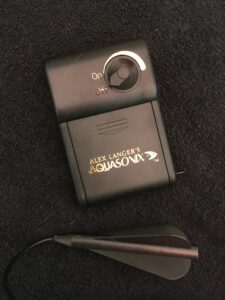 SEARS 9165 - vocal mic for guitar amp - ( 1970's )  An American thrift store find, still in its sales pitchy cardboard box. This is certainly the correct mic for screaming through a distorted Silvertone tube amp.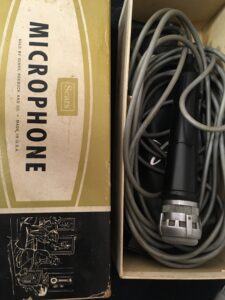 RAULAND-BORG 1146b - broadcast dynamic - ( 1950's )  Thrift stores can yield some amazing stuff…  This one has the feel & soldi weight of a 1950's Cadillac front bumper.  Not sure if it has ever made it to an actual recording.
TANNOY - vintage broadcast dynamic - ( 1950's ) This one came from a giant thrift store in Buffalo - Good British heritage. The kind of mic a headmaster would issue stern warnings into.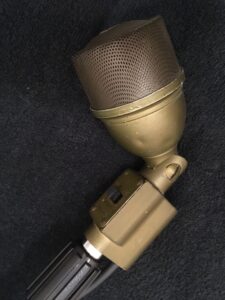 WASAPHONE - custom made "lo fi" carbon mic (2) - ( mid 2010's )  Can't quite remember how I learned about these mics. ( another Tape Op review, maybe? ) But, I ordered one direct from the British maker, who takes the carbon mic element from really really old phones, and puts them into nice metal salt shakers to make amazing mics.  They really do sound like the caricature of 1920's phone technology, and sound as cool as I had always wished that these busted old broadcast & tape recorder mics would sound!  It is the most analog voice effect device I know.  10 years later, I accidentally came across another one, cheap, on ebay, and just had to buy it.  I'm sure the first one will never just mysteriously break, but I DO have a backup, just in case. Or... maybe somebody will want to do a very lo-fi stereo recording one day, and I will be ready to go!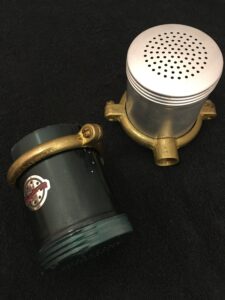 LITTLE MIKE - A consumer 'novelty' from early 1930's designed to let you strategically pull out a vacuum tube from your big console radio, hook the little wire connectors of this mic to those tube sockets, put the tube back in, & then allow you to play announcer with the radio, or I guess, sing along! A beautifully old sounding carbon mic in a solid metal housing... ( always seems to take a few alligator clips and some gaff tape to make it come to life during a recording session!! )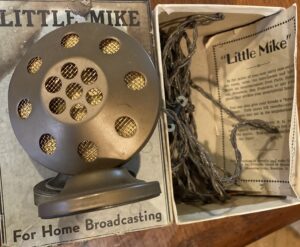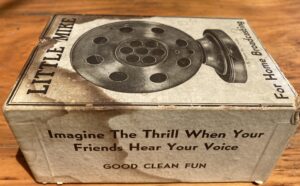 REALISTIC DYNAMIC REVERB MICROPHONE - Another amazing microphone with an actual spring reverb built into the body of the mic, and a switch to turn the reverb on/off - It seems impossible to find almost any documentation on the history of this mic. This one seems to have spent about 50 years just chillin' in its black vinyl box!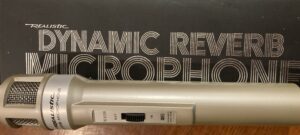 REALISTIC 33-1045 (3) Many years ago, I came across a box full of Radio Shack stuff at some big warehouse flea market, and ended up with a bunch of "NOS" Realistic mics still sealed in their cardboard boxes! These came with little legs that turn the mic clip into a "desk stand", and a very slick wind screen. They get power from a single AA battery, which slides into the body when you unscrew the capsule! Not sure that I will ever 'use' them, but they do amuse me greatly...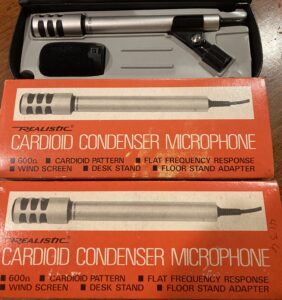 REALISTIC 33-1050 (5) - Yeah, 5 of 'em. Check out the dwindling Radio Shack price tag starting at 17.95, going to 9.25, then 6.90, and then somehow ending up in a big flea market box for me to find!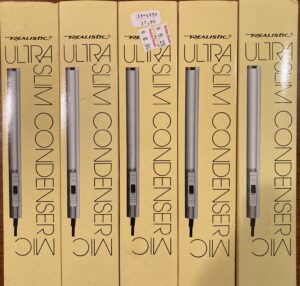 REALISTIC 33-1085 (3) - These were some very weird stereo mics, with two 1/4" plugs hardwired as outputs, and a knob to rotate the capsules for front-address or side-address setup